No Short Cuts • No Cookie Cutters • No One Size Fits All Approach • No Plumb Bobs
Only with us will you find
Retul Motion Capture and Active Saddle Pressure Mapping
wrapped into a comprehensive fit solution in this region.
Time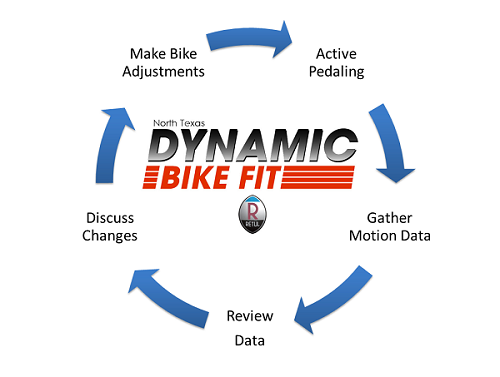 Our process is comprehensive, requires setup, analysis and implementation. To give you the attention you deserve, expect to spend 2 – 3 hours for a Dynamic Bike Fit. On average, we take between 2.5 – 3 hours. Depending on the individual rider and their equipment, it can take a little more time or a little less. Ask yourself this, do you want QUICK or COMPREHENSIVE?
Detailed Rider History and Goals
Rider History
Riding Style(s)
Goals
Reasons for getting a fit
Aches, Pains and Discomforts
Past history of change to your bike and fit
Prior injuries
and more…
You deserve to have a fit based on your wants and needs…your individual characteristics. 27% of riders have previous injuries that may affect their fit.
Multi-step Off Bike Physical Assessment
Flexibility
Range of Motion issues
Core and Upper Body Strength
Foot Structure
Leg Length Differences
Pelvic Alignment
and more…
You cannot expect the body to assume a position on the bike that it cannot attain off the bike.
Retul Active 3D Motion Capture (Left and Right Sides)
We review both left and right side cycling kinematics of the body while actively riding under a load.
Hip
Knee
Foot
Back
Arms
Stack and Reach
and more…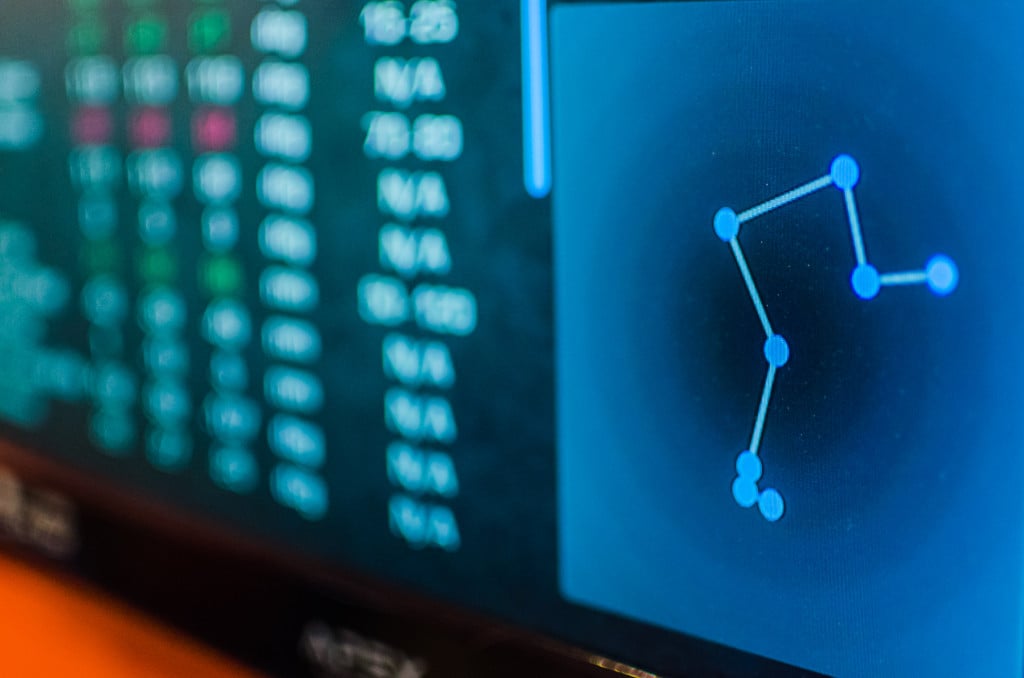 Why do we look at both sides of the body?
Because you have two and they are not a mirror image of each other. Retul 3D Motion Capture Technology has been around for 10+ years and is still the best in the industry. More about the Retul Active 3D Motion Capture Technology
Active Saddle Pressure Mapping
99% of riders who have had our Dynamic Bike Fit process have their saddle issues resolved in a single visit.
Our active saddle pressure mapping shows EXACTLY how your body is interacting with the saddle WHILE RIDING YOUR BIKE
Measurement of the pressure distribution in different seating and handle bar positions.
Comparison of different saddle types
Displaying of the results though a color code or a 3-D pressure chart
Features to analyze asymmetries and phases of loading.

Why do we obsess with the saddle?
It is the number one point of contact for comfort and discomfort.
Why would you want to have detailed information on how your body interacts with it?
We stock more than 300 saddles from a wide variety of manufacturers like Selle Italia, Fizik, Selle San Marco, Selle Royal, ISM, Cobb, Terry, Serfas, Brooks, Ergon, BiSaddle, WTB and many more. We work to find the one that works best with you and your riding position.

Foot/Pedal Evaluation and Adjustments
We review
Cleat Position – medial/ lateral, fore/aft and rotation
The need for shims and wedges
Stance Width of Pedals
Insoles
Pedal System
Cleat Float
and more…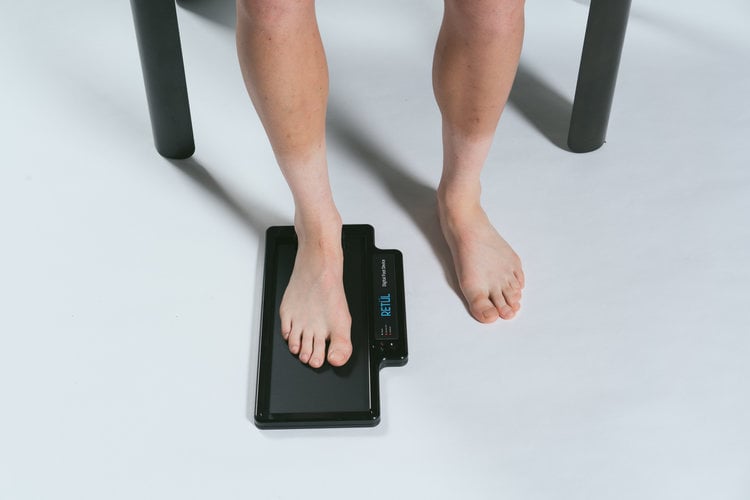 We have a plethora of pedal, shoe and foot interface items to help with most any problem including a custom footbed solution.
Detailed Digital Bike Measurements (Pre and Post)
We feel it is as important to know where we started as it is to know where we finish. It helps build a history that we can use as time passes. If your current position is not working for you, it is a good idea to know the measurements that don't work for you. Is it not?
Bike Adjustments
We look at every aspect of contact on the bike including but not limited to:
Saddle
Bars
Stem
Hood Position
Shoes – Inside and Out
Crank Arm length evaluation
Pedal System
and more…
We have tools that allow us to test many positions during the session including but not limited to bar reach, crank arm length, and saddles. We let you feel what it is like to go through a variety of positional changes on the fly.
Measurement Reports
Detailed report that provides measurements like :
Frame Stack and Reach
Bar Stack and Reach
Grip Reach
Saddle Angle, Fore/Aft and Height
Arm Pad Stack and Reach for TT/Tri
and much more…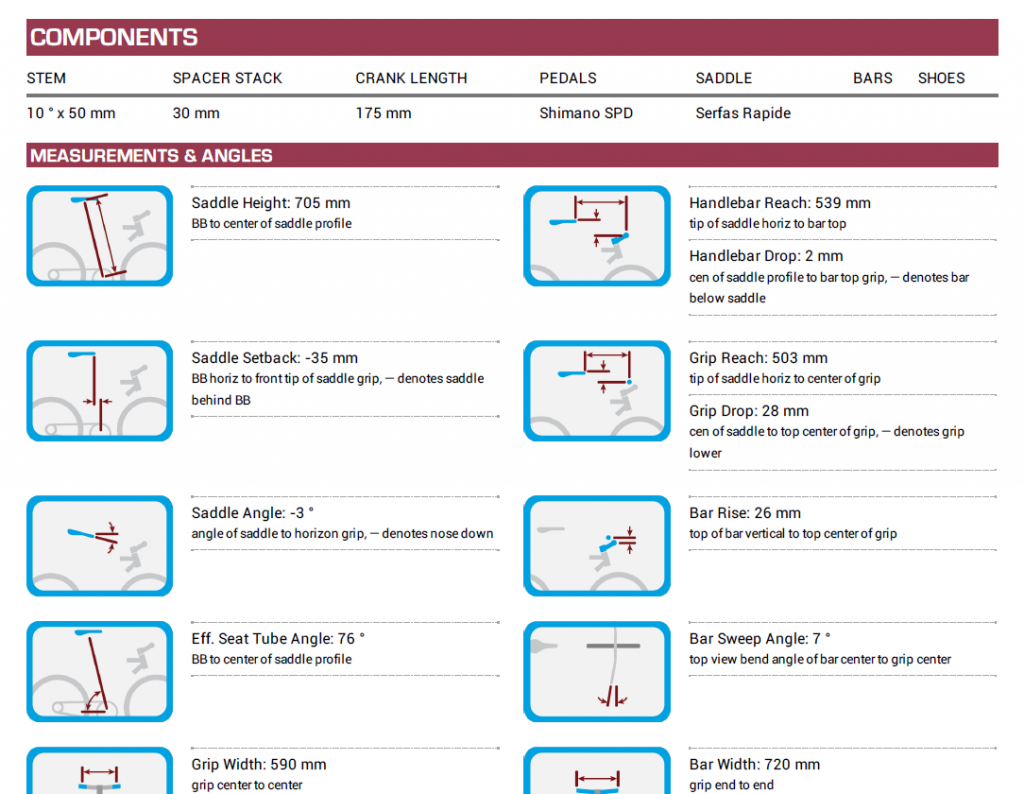 This gives us reference points for the future. Many of my clients use these reports to buy/build new bikes or to rent one while on vacation.
In every case, the fit will be as individualized as you are.